← Marguerite's Words of Wisdom for November
Marguerite's Words of Wisdom for January →
Marguerite's Words of Wisdom for December
2014-12-30
The week before Christmas, my beautiful daughter and only child, Julie, had surgery on her ankle. I truly believe that having a loved one make their transition gives us an amazing perspective on life. In the past several years, I have lost my sweetheart Rodger, my Dad Bill, and my Mom Theresa. My spiritual training has reminded me to always be grateful for what I HAVE, and to stay focused on everything that is RIGHT with my life!
So… driving into Atlanta to take Julie to the hospital, be present with her during her surgical experience, then drive her back home to my cozy house on the lake to be her private duty nurse; it gave me great joy to spend time with the most important person in my life. I was extremely grateful that she came through her surgery without any complications, other than a low grade wound infection a week later that was easily treated with antibiotics.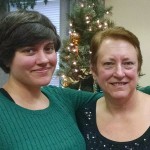 The very busy, busy job, I was working in at the time, had me scheduled for Christmas week. So Julie and I celebrated Christmas on Saturday December 19th; complete with the Christmas tree, the stockings over the warm fireplace, the gifts, and the Turkey/Tofurky dinner! On Sunday the 20th, we went to Unity of Athens, where I was the soloist for their Christmas program. We finished our holiday celebration with a fabulous brunch at The Grit Restaurant, with our friend Krista.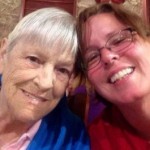 Then I dropped Julie in Atlanta and continued on to Columbus where I worked a very long and stressful Christmas week, caring for those who were unfortunate enough to be hospitalized over the holiday. Again I was grateful to have my daughter be so healthy, as I helped folks deal with the illnesses of their family members, including my friend Brenda, whose Mom, Alma, suffered three strokes on Christmas week and made her transition on the 28th.
So when the holidays come, we are tempted to feel sad and empty, missing those we have lost. This is a normal part of our grief work. But let us not forget to celebrate those who are STILL with us and all the small victories that occur when they face illness and come back to health. Let us also remember that those, who have made their transition, are present at the holiday dinner table as well. I like to hear the stories of how those on the other side make their presence known, so we can remember that their love and support is with us even now! God bless!
This entry was posted in
Grief and Loss
and tagged
delayed greif work
,
family loss
,
family support in grief
,
grief during the holidays
,
healing
,
loss of father
,
loss of mother
. Bookmark the
permalink
.
← Marguerite's Words of Wisdom for November
Marguerite's Words of Wisdom for January →